The History of Wado Karate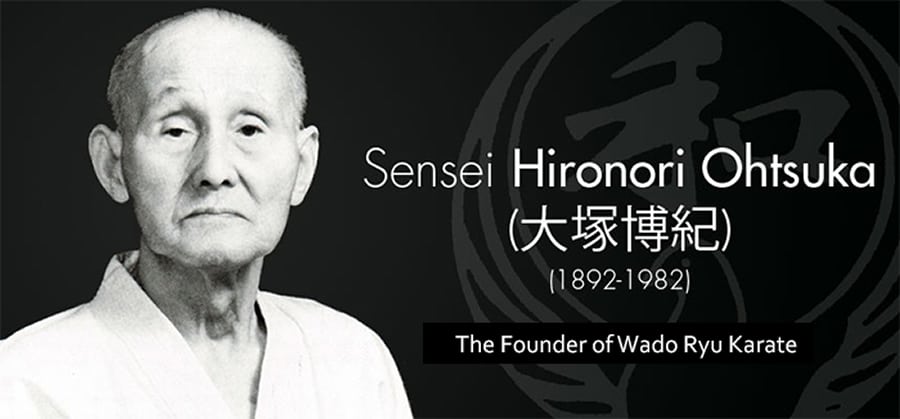 (This is a growing compilation of many pieces of information, gathered from many sources, intended to share a broad glimpse of Wado's rich history)
Hironori Otsuka, Founder of Wado Ryu Karate, was born on June 1st 1892 in Shimodate City, Ibaraji, Japan. He was the second child of four children. His father, Dr. Tokujiro Otsuka, operated a clinic at their home in Shimodate, lbaraki Prefecture. His mother's uncle, Chojiro Ebashi, was a samurai warrior who kept young Otsuka spellbound with his true tales of exciting samurai adventures.
In 1898, when he was only six years old, Hironori began practicing Shindo Yoshin Ryu Jiujitsu under the tutelage of his father.
The Shindo Yoshin Ryu Ju jitsu School was founded in 1864 by Katsunosuke Matsuoka (1836-1898), although its lineage goes back to the early 1600s through the line of Yoshin Ryu Jiujitsu, founded by Akiyama Yoshitoki . Matsuoka was a doctor of Chinese medicine and a subject of the Tokugawa shogunate. He learned Tenjin Shinyoryu Jujutsu and Yoshin Koryu Jujutsu together with Jikishinkageryu Kenjutsu and Hokushin Ittoryu Kenjutsu in the martial arts school of the shogunate. Matsuoka established his own school in Asakusa, Edo (present day Tokyo) and was also promoted to the governor of the shogunate possession in Ueno Village, Hitachi County (Ibaraki Prefecture).
Whereas most Ju Jitsu schools specialised in naga waza (throwing and ground techniques), the Shindo Yoshin Ryu Ju jitsu School stressed atemi striking and kicking. This, combined with the fact that other bujutsu arts were taught in the school, had an influence on the style of karate he was to create as it provided a common ground between the classical Japanese bujutsu and Okinawan karate.
Matsuoka's successor was Matakachi Inose (1836-1898), who was succeeded by Tatsuo Matsuoka (1893-1989), who was succeeded by Otsuka's teacher, Tatsusaburo Nakayama(1870-1933). By 1905, Otsuka began to study Shindo Yoshin Ryu Jiujitsu along with 35 other young students under this respected master , who was also a skilled Kendo instructor. During his school years (1906-1911) he continued to excel. Whereas most jujitsu schools specialized in throwing and ground or striking techniques, the Shindo Yoshin Ryu Jiujitsu also stressed atemi–striking and kicking. This Kendo influence is still seen today in the Kihon Gumite, and the demonstrations of tachi-dori and tanto-dori that frequently accompany Wado instruction.
In the spring of 1911, when Otsuka was 19, he entered Waseda University-one of Japan's finest universities. While majoring in business administration, Otsuka also started training in atemi-style kempo and continued his practice in Shindo Yoshin Ryu Jiujitsu and other jujitsu schools. The death of Otsuka's father in 1913 during his junior year at Waseda University forced him to withdraw and to go to work in at Kawasaki Bank in Shimodate. And as it turned out, he was never able to return to complete his final year and graduate.
Eight years later, on June 1, 1921, Otsuka celebrated his 29th birthday by taking over the mastership of the Shindo Yoshin Ryu Jiujitsu from Nakayama upon receipt of a Menkyo Kaiden certificate of "full proficiency" in the jujitsu school. He also studied Yoshin Koryu from Kanaya Motoo (circa 1919-21).
<p style="text-align: center;"><span style="font-size: medium; line-height: 1.3em; color: #FFFFFF;"></a> <a href="https://www.planodojo.com/about-us/history-of-wado/"><span style="color: #FFFFFF;">1</span></a> , <a href="https://www.planodojo.com/about-us/history-of-wado/history-of-wado-karate-page2"><span style="color: #FFFFFF;">2</span></a> , <a href="https://www.planodojo.com/about-us/history-of-wado/history-of-wado-karate-page3"><span style="color: #FFFFFF;">3</span></a> , <a href="https://www.planodojo.com/about-us/history-of-wado/history-of-wado-karate-page4"><span style="color: #FFFFFF;">4</span></a> , <a href="https://www.planodojo.com/about-us/history-of-wado/history-of-wado-karate-page5"><span style="color: #FFFFFF;">5</span></a> , <a href="https://www.planodojo.com/about-us/history-of-wado/history-of-wado-karate-page6"><span style="color: #FFFFFF;">6</span></a> <a href="https://www.planodojo.com/about-us/history-of-wado/history-of-wado-karate-page2"><span style="color: #FFFFFF;">Next Page</span></a> </span><!-- [et_pb_line_break_holder] --></p>