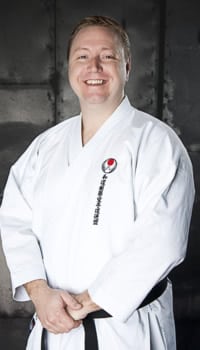 Sensei Burns
Chief Instructor
Sensei Burns started training in August of 1990 at the age of 18 while attending classes at Collin County Community College. He studied under Sensei Diana Worthen in Wado ryu karate at Worthen Karate Academy where he trained heavily while completing his college degree. In 1995, Sensei Burns graduated from college and returned to his hometown of Plano, where he continued to train under Sensei Worthen. January 1, 1996 Sensei Worthen retired from teaching karate and passed the dojo to Sensei Burns` long time friend, Sensei Darrin Free. Sensei Burns immediately became a partner in the ownership of the dojo and the dojo was renamed the Academy of Classical Karate-do
Sensei Burns was accepted as a student of the most senior Wado instructor in the world, Tatsuo Suzuki and joined the Wado International Karatedo Federation (WIKF). He has traveled to Japan, Spain, Portugal, Puerto Rico and across the US to train with Suzuki Sensei. In 2003 while visiting Japan, he was personally asked by Tatsuo Suzuki to organize and host the 2005 WIKF World Championships which was one of the largest and most successful championships held by the WIKF. He is currently the Chairman of the Board of Directors for the USA branch of the Wado International Karatedo Federation (WIKF USA) and in 2008 was appointed by Tatsuo Suzuki as the Pan American Regional Director for WIKF. He currently holds a fourth degree black belt earned from Tatsuo Suzuki.
Each year he hosts the Suzuki Cup tournament and training in Dallas, Texas in honor of his teacher. The event draws participants from across the Pan American Region and features a Team Kumite event that often draws members of national teams including US team members. The Suzuki Cup is one of the largest traditional karate tournaments in the US.
He is the Head Coach of WIKF Texas, the competition team of the Academy of Classical Karate. Sensei Burns is proud of his team's track record and has coached several State and National Champions. He has helped members of his team qualify for the US National Karate Team and represent the United States in international competitions. He is a certified Coach, by USA Karate and has taken the US Team to international competitions in Europe. He currently coaches members of both the USA Senior Team and USA Junior Team at his dojo in Plano.
Sensei Burns was a Police Officer for 12 years before becoming a Special Agent for the United States Postal Inspection Service. He has a Bachelor of Science Degree from Sam Houston State University in Criminal Justice and is currently assigned to a Fraud Team responsible for investigating various high dollar fraud related crimes that occur throughout the country. In addition to his investigative duties, he was the Defensive Tactics Coordinator for the Police Department and was responsible for training fellow Officers in the proper use of force and control tactics. He is on the faculty at Collin County Community College where he has taught Self-Defense and Karate courses to hundreds of students.
Sensei Burns is the Director of Tournament Operations for USA Karate (USA-NKF) and is responsible for the operations of major tournaments hosted by USA Karate. He has worked with the National Event Staff since 2006 to develop and improve major events such as the US Open and National Championships. He is currently the President of the Texas Sport Karate Federation which serves as state level representation of USA Karate and the avenue for Texas athletes to qualify for National