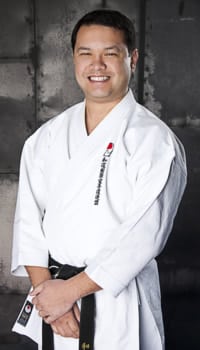 Sensei Gatchalian
Head Instructor Adult Program
In 1996, Sensei Gatchalian passed his initial shodan compulsory examination phase on his first attempt, an accomplishment only seen once prior to his exam, and after four years and eight months of training, he earned his shodan rank on November 9, 1996. In 1998, Sensei Gatchalian won a Gold Medal in Kata at the Amateur Athletic Union (AAU) National Championships in Orlando, Florida and became a National Champion and an AAU All-American..
In 2001, Sensei Gatchalian began practicing karate-do under Suzuki Tatsuo Sensei and joined the Wado International Karatedo Federation (Wado Kokusai Karatedo Renmei). Sensei Gatchalian had the great honor of being Suzuki Sensei's uke in a Tanto-dori demonstration at the 1st Annual Suzuki Cup in Plano, TX, USA.
Sensei Gatchalian is currently an Instructor and Assistant Coach at the Academy of Classical Karate-do. He is currently certified under the American Sports Education Program (ASEP) and a certified AAU coach and official. He has competed and medaled several times in a number of AAU and USA-NKF National Championships and the AAU Junior Olympics. He has also won Association and Regional Champion in the AAU, State Champion in the USA-NKF, and Texas State Champion in the Traditional Karate League many times since 1992.
A proud member of the Fightin' Texas Aggie Class of 2002 (WHOOP!), Sensei Gatchalian graduated Cum Laude from Texas A&M University in College Station in May of 2002 with a Bachelor of Science in Biomedical Science, a Bachelor of Arts in English with an emphasis in rhetoric, minors in Psychology and Political Science, and a Professional Writing Certificate. He also earned the honor of graduating as a University Undergraduate Research Fellow, the highest honor at Texas A&M University, conducting research into the factors affecting the performance of medical students.
Sensei Gatchalian is currently a Medical Student (Student Doctor) of the Class of 2007 at the Texas College of Osteopathic Medicine at the University of North Texas Health Science Center at Fort Worth and is pursuing his Doctor of Osteopathic Medicine (D.O.). He hopes to earn a teaching fellowship in the Department of Osteopathic Manipulative Medicine (moving his graduation date to 2008) where he would earn a Master of Science in Clinical Education and Research and valuable experience in teaching, clinical skills, and research. Upon graduation, Sensei Gatchalian anticipates entering a residency in the Dallas-Fort Woth (DFW) Metroplex of Texas in Family Practice and also pursuing fellowships in Sports Medicine and Osteopathic Manipulative Medicine. Sensei Gatchalian hopes to be a practicing family physician in the DFW area, and after several years as a practicing physician, Sensei Gatchalian also hopes to return to academics to become a clinical professor and to teach future physicians the art and science of medicine and osteopathy.